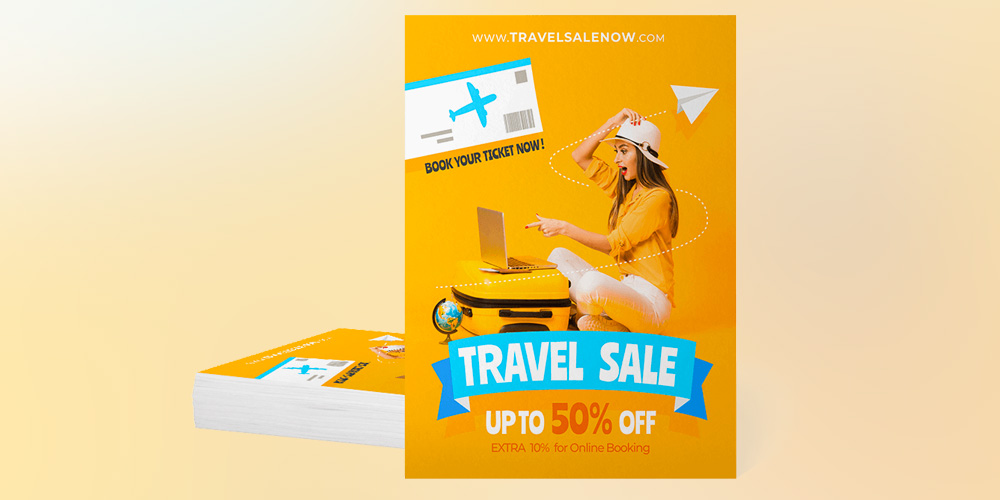 Flyers can be powerful tools for promoting your business to new markets — but an effective design is key. 
Your flyer may very well be distributed to people who are busy and don't want to stop to read it, so it's crucial you have an eye-catching design that draws them in and keeps them interested.
At HappyPrinting, we want to be sure that your flyers will make an impact. So, we've put together our comprehensive guide to designing a memorable flyer for your business.
What are 

flyers

and what are they used for?
First and foremost, let's talk about the what and why of flyers. Flyers are a simple form of advertising material consisting of a single sheet of paper, usually unfolded.
A flyer is used for promoting an event, a product, or a business. Generally, the key function of a flyer is to raise awareness.
No matter what it is you're promoting, awareness marketing such as distributing flyers is focussed on ensuring as many people know about your product as possible. Awareness ensures that when potential customers are in need of what you're offering, they'll recall your name.
Flyers are typically distributed by hand on the street or at an event. However, they may also be available on your premises, to give additional detail about a product, for example.
Finally, because flyers have a relatively short lifespan, it's common for them to be printed on a thinner stock. That said, thicker paper can be used to help a flyer hold up if it contains information to be referred to repeatedly.
How much does it cost to make a

flyer

?
As single-sheet marketing materials, flyers are extremely cost effective to produce. Using HappyPrinting's recommended specifications, 500 double-sided 170gsm gloss flyers cost just $0.45 per leaf. 
Flyers only get cheaper the more you order, so consider saving money by ordering extra..
What's the difference between a flyer, brochure, pamphlet and leaflet?
Don't get flyers confused with similar marketing products. When you're developing your marketing campaign, it's important to understand the difference between different types of collateral, so you know you're ordering the right thing.
What is a brochure?
A brochure is essentially a small book or magazine. It's made up of multiple leafs of paper, bound in some way (usually saddle-stitched). These are used for providing more in depth information about your business, such as a catalogue of products or services. 
For large-scale events, brochures may also contain at-length schedule and exhibition information to assist delegates in navigating the show floor.
What is a leaflet?
A leaflet is a single sheet of paper, similar to a flyer, however it is often folded to have a "cover" with information inside. A leaflet contains more information than a flyer, but less than a brochure.
They are typically used for promotional purposes, such as advertising an upcoming event or festival.
What is the difference between a brochure and a leaflet?
A brochure consists of multiple sheets of paper bound together like a small book, while a leaflet is a single leaf, intentionally folded to arrange information.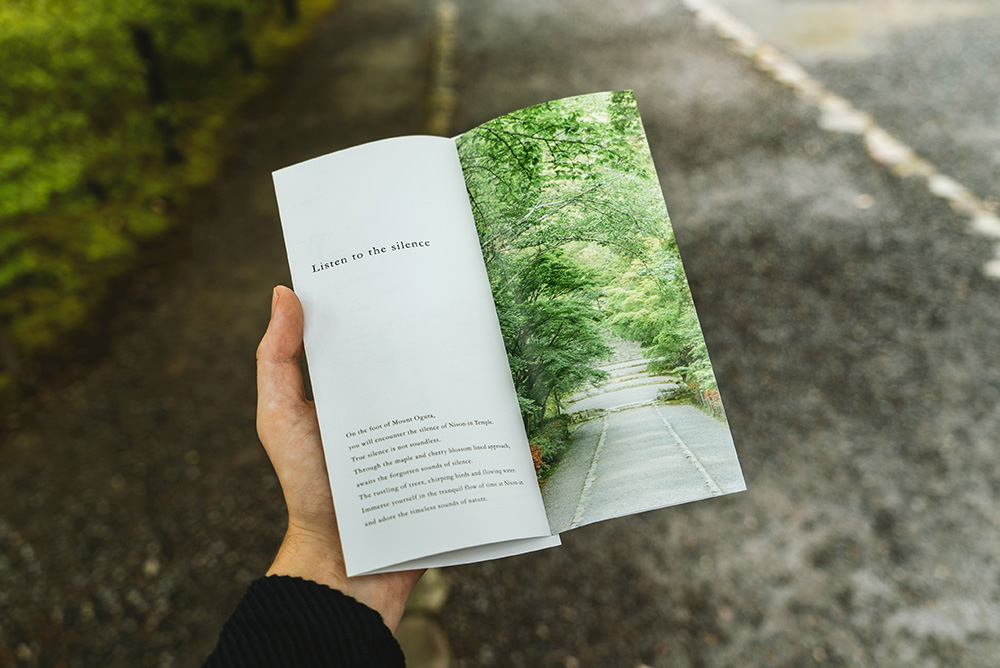 What is a pamphlet?
Pamphlet is a general term used to refer to multi-page printed materials. A pamphlet may refer to a brochure, or to a folded leaflet. 
What is the difference between a leaflet and a pamphlet?
Some suggest that a pamphlet is specifically informational, while a leaflet is promotional. 
Under this definition, a pamphlet may be a print-out from your dentist that explains what whitening is and how it works. 
Meanwhile, a leaflet from your dentist would make you aware that they do whitening and possibly offer a promotional discount.
Determining your 

flyer

strategy
If your flyers are going to be successful, they need to have clear intentions behind them. You don't just want to print flyers for the sake of having them. Think about the following questions to create a clear flyer strategy:
1. What is the goal of your promotional strategy?
Why do you want a flyer? Flyers are chiefly used for raising awareness of something. In the basic sales funnel, this is the start of the customer journey. People must first become aware of your business, before they can be interested and then finally convert.
If your intention is to market to an existing database of leads, flyers may not be the best decision, unless you're advertising a new service you want them to be aware of.
Flyers are best suited to spreading word about your product, service or event to new potential customers, otherwise known as an awareness campaign. With that in mind, are flyers right for your strategy?
2. How do flyers support your marketing goal?
You know that you want to raise awareness, but are flyers the right tool to do that? There's more to setting a goal than just stating you want to raise awareness.
For example, flyers are particularly useful in raising awareness within a specific locale. You might hire someone to stand on a street corner and distribute flyers. That means anyone working or passing through the area may receive a flyer. 
Your flyers are therefore having an impact on a specific area, but may not reach customers in another suburb at all. 
If your target market is local, flyers are a great choice. Be sure to include your address, so they can drop by!
3. Who are you marketing to?
Target audience is everything in marketing. If you're advertising a lunch special to corporate employees, your flyers should look very different than if you were to advertise to university students. 
When thinking about your target audience, you should consider how you can appeal to them both visually and informationally.
Corporate employees can probably afford to spend a bit more on lunch, but may be very busy. They also have an image of professionalism to maintain, so a clean, healthy food imagery and specific mention of quick grab-and-go lunches may be more successful.
Meanwhile, students are more likely to prioritise affordability and taste, as they often can't work full-time. So, imagery should be indulgent while the information should focus on value.
You can also work backwards for this. If you already have your product, think about who it appeals to and why.
4. What quality do your flyers need to be?
While thinking about the target demographic, you should also ask what your audience expects from marketing material. 
In general, higher quality flyers will have a stronger impact. However, you have your own budget restrictions to consider. As a general rule, the more your product or service costs, the higher quality your flyer should be.
Perceived quality often comes down to the thickness of the stock, the use of gloss, quality of imagery and typography, and even spelling and grammar.
This is where it becomes especially useful to have printing partners who care about your goals. At HappyPrinting, we'll proof your material for you, catching errors in any aspect of the flyer before it goes to print.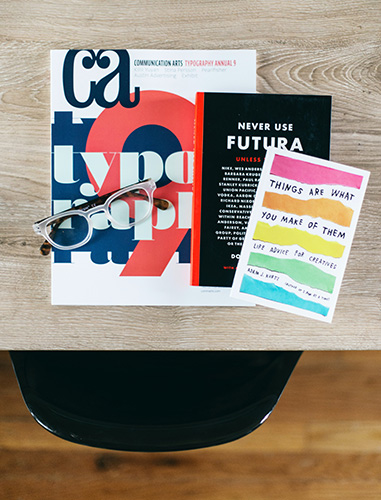 5. Where will you distribute flyers?
You know flyers are best for advertising to a specific locale. You now also understand that your flyers should advertise to a specific target audience. Now it's time to ask where that audience is?
To use the same examples as above, it's a safe assumption that corporate employees could best be found around the streets of your city's central business district. Likewise, university students will be found around the campus or neighbouring streets.
Of course, you might also distribute flyers to letterboxes if your business targets homeowners or tenants, or a more broad demographic within a specific residential area (such as "anyone in walking distance to your cafe"). 
6. What is your call to action?
A call to action (CTA) is a specific phrase used to motivate customers to take the action you desire. Think about TV commercials, for example. They'll often instruction you to "buy now". This is a very simple example of a CTA.
Your call to action, for an awareness campaign, can vary significantly depending on the type of business you are. That said, don't just default to "buy now" — instead, really think about what you can reasonably expect a recipient of your flyer to do.
For many businesses, this may simply be visiting your website or liking your page on Facebook. Even these basic actions help you grow your business. 
Whatever your CTA, it needs to be very clearly communicated on the flyer itself. If you want customers to come to your bar's open mic night, for example, you need to clearly say so and include all the information they need such as an address, a date, a time and cost of entry.
Designing an effective flyer requires two key things. First of all, it needs to be visually appealing. That means it should catch the eye in a positive way, with a colour scheme, imagery and layout that is pleasing to the eye.
Secondly, your flyer needs to convey the information you're trying to communicate quickly and in a clear hierarchy from most important to least important. 
There's a lot that goes into designing a great flyer, so we've outlined some tips for you below.
1. Find flyer designs you like
Research is always one of the best places to start when it comes to design. 
You can find great examples of flyer designs by simply searching for design inspiration via Google Images, or on a site like Pinterest. On Pinterest, you can collate designs you like into one board of ideas, allowing you to create a clearer concept of what you're aiming for.
Whatever tool you use, it's a great idea to save three to five flyers that you especially like and highlight the key elements you'd like to incorporate into your design. Such elements could include unique typography, dynamic photos or even just colours you like.
2. Create a flyer template to follow
If you plan on promoting a lot of things using a flyer, it can be very useful to have a template that can be repurposed for different promotions. 
A template is helpful, because it has an existing hierarchy of information, so you can easily organise your copy. It might also have clear spaces for imagery, so you know what to ask for when briefing an illustrator or photographer.
There are a few different ways you might go about getting a flyer template:
3. Hire a designer
A small business may not have the budget to hire a designer for a bespoke flyer every time a new promotion comes around. That's another reason templates are a great idea — you can hire a designer once to create a unique template that can be repurposed again and again.
At HappyPrinting, we can set you up with one of our designers for a bespoke flyer template design at a great price, and can even assist in developing your company's identity. Learn more about our design services here. 
4. Or design your flyer template yourself
When you're just getting started, even a one-off designer bill can be off-putting. The good news is that it is possible to design your own template with a little bit of know-how and the right tools.
Canva is a free-to-use online design tool, which also includes a library of imagery that you can use for free or for a small price. It also features a number of exemplar designs and templates you might like to use.
Otherwise, paid tools like Adobe Photoshop and InDesign are the industry standard for designers. These are very powerful tools that may not come with imagery built-in, but have a lot more potential for unique design techniques.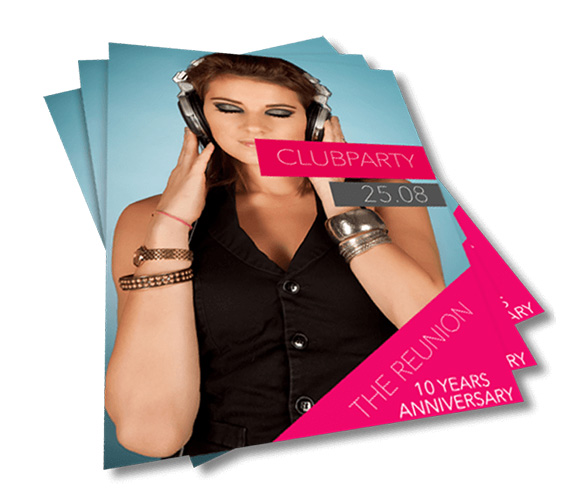 5. Make use of HappyPrinting's flyer designer tool
Easily the simplest way to get an effective design is to use HappyPrinting's online flyer designer tool. 
Right here on the HappyPrinting website, you can access a range of simple but effective flyer templates in a broad range of paper sizes. It's as easy as uploading your imagery, pasting in your text where needed and choosing your colours.
To get started, head on over to our flyer product page and select the size and finish you want. Then scroll down and "Create Design". From there, simply follow the steps to customise a template and make your ideal flyer design.
Using our online tools is by far the easiest way to get your flyer design done and ready to print. Because you're selecting our actual flyer sizes to start, you can be sure your flyer won't need resizing and everything will be printable as seen on your screen.
If you're wondering how long it takes to make a flyer, you'll be relieved to hear that with HappyPrinting, you can get your flyer designed online today and expect it to arrive within three business days provided files are approved before 1:00 pm. 
Plus, with everything on our website already, you don't have to mess around with transferring files or utilising any extra software.

6. Incorporate your brand identity into your flyer design
Brand identity is the unique signature of your company. It's the colours, logos and tone of voice that make your company stand out from your competitors. 
That's why it's crucial to incorporate brand identity into your design. If you've yet to establish a brand identity, now is the time to start.
Here are the most important aspects of your brand identity to include within your flyer design:
Your brand's name.

Your brand's logo.

Your brand's unique colour palette.

The tone of voice for your brand's copy and imagery.

Your preferred brand typefaces.
7. Choose your flyer colour palette
Your colour palette should be recognisably related to your brand identity, but it isn't strictly limited to your brand colours. 
Choose complementary colours that can be used, such as neutrals like white, grey and black.
If your brand colour is a specific shade of blue, for example, it's a good idea to ensure that colour takes up at least one third of the visual weight of the flyer. That doesn't mean it needs to be literally a single third of the page, but you might choose to print your headlines in that colour, as well as the background of the footer.
8. Select appropriate flyer imagery
Imagery can be a hard one to get right. If you're working on a budget, you may not have the funds to hire a photographer or illustrator to create unique imagery for you.
If this is the case, stock imagery is a great option. Be careful to avoid photos that feel staged, cold or disingenuous, as most people better relate warmly lit images and dynamic motion.
For royalty-free stock imagery, try the following website:
As tempting as it may be to just download your favourite photos from Google Images, you can get in legal trouble for using images you don't have the license to. All of the websites linked above offer their photos under a totally free license, meaning you may use, distribute and edit the photos with no need to pay or give attribution.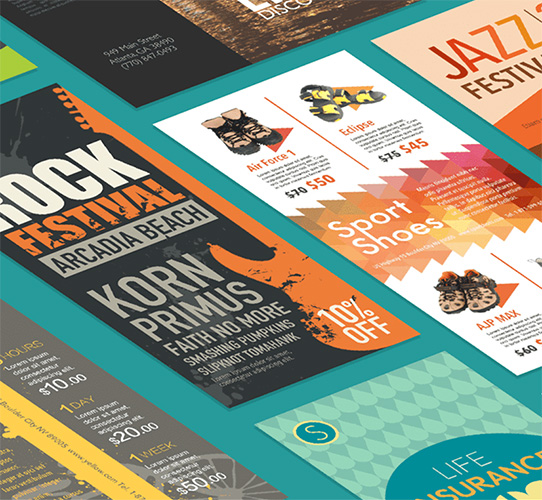 9. Write your flyer copy
A flyer needs to convey information clearly. While a picture may be worth a thousand words, it's not the best way to drive customer action!
Generally, the best way to write a flyer is to use a clear, short and enticing headline. For example, if you're advertising a sale at your retail business you might write "25-50% Off Everything". Or if you're advertising a book signing, you might write "Best-Selling Author Live Book Signing".
Any information that follows should also be concise and clear, and follow a structural hierarchy. The most important information should be more heavily weighted. This means it should draw the eye with a larger or bolder font, even if it isn't at the top of the page.
Lastly, remember to proofread, as nothing can turn a customer off like incorrect information or embarrassing typos.
Printing and distributing your 

flyer
Now that your design is complete and ready for print, it's time to think about what you need from a printer.
1. Find a printer you can trust
There are a lot of printing companies you can choose from today, but each offers something unique. At HappyPrinting, we're more than just a printer — we're a printing partner. 
That means we don't just print your products, but we approach every job with care and personalised service. We proof each design before printing to ensure you get the best result without pesky misprints or unnecessary waste.
With a network of printing locations throughout United Kingdom, we can get your printing to you in record time, no matter where in the country you're based. 
Better still, the support of our customer service team and designers means there's always help at the other end of the line when you need it.
Finally, don't forget our online design tool means you can create and print professional-quality flyers in no time at all, with none of the extra costs and stresses of outsourcing the process or doing it yourself.
2. Select your flyer size
There's a great range of different sizes you can choose from when printing flyers. You've probably thought about the size, or at least the shape of your flyer already, but printing is your last chance to make any changes.
Here are some of the different sizes you can print your flyers with HappyPrinting:
What is the best size for a flyer?
Ultimately the size you should choose comes down to your design and how you plan to distribute your flyer. A5 is often the most popular choice, as it's versatile and easily recognisable.
That said, you might also consider the DL size. The narrow, long shape is easy to hold in your palm while still having plenty of space for information.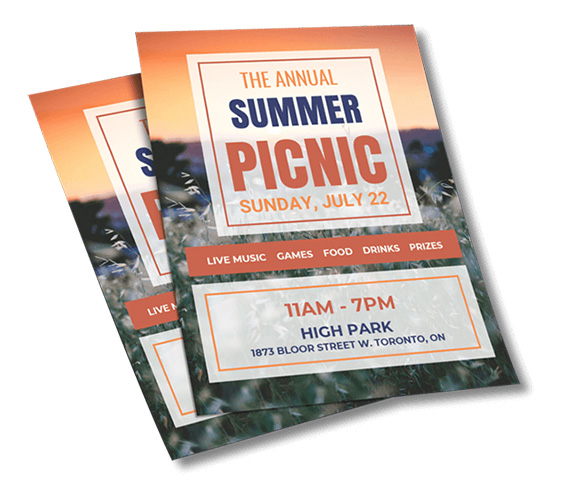 3. Choose your printing material
When selecting your printing material, there are two main elements to consider.
First of all, what weight would you like your stock to be? Our stock ranges from 130gsm to 400gsm. The unit "gsm" refers to grams per square metre. So, the higher the gsm, the heavier and thicker the paper is. 
Most household paper is around 100gsm, so even our lightest stock will be sturdier than home printing. The 170gsm and 250gsm options will be more premium-feeling, thicker paper.
Meanwhile, 350gsm and 400gsm are essentially card stock.
Second of all, you'll need to decide if you want a matt or gloss finish. Gloss paper is shinier and smoother, and a popular option for professional flyers. That said, matt is a great choice for muted or pastel designs, because it changes less in the light. 
4. Decide on a number of copies
This one is pretty simple — how many flyers do you need? The more flyers you buy, the more you'll save. However, you don't want to waste money and paper by ordering more than you reasonably need.
It can be hard to know exactly how many you need. Think about how long the flyer will be relevant. If you're promoting an event, you'll probably be better off ordering conservatively because it will be hard to get rid of any leftovers once the event has passed. 
However, flyers for your business or product may be relevant for longer, so it's not a big deal if you over-order slightly.
5. Order your flyers!
Once you've chosen your flyer specifications and uploaded your design (or used HappyPrinting's online design tool), you're ready to order. Our simple online ordering means all the details are laid out clearly, and you'll be given an expected delivery date.
Of course, if you need your flyers in a hurry, don't hesitate to get in touch with HappyPrinting and we'll get you sorted right away.
We print, you smile!